Cabo La Estancia Villa Rentals
The Place to Stay in Cabo San Lucas, Mexico
With Cabo La Estancia Villa Rentals experience luxury by buying or renting a privately owned villa, condo, or penthouse right on Medano Beach in Los Cabos, Mexico.
Fall in love with the naturally striking beauty of Baja California complemented by the modern comforts of a five-star resort.
Featuring breathtaking views of the distinctive rock formation at Land's End, infinity pools with waterfalls and grottos, on-site restaurants, and private chefs, as well as 24-hour concierge service, you'll feel right at home where the desert meets the sea.
The resort is less than a mile from downtown Los Cabos, famous for its nightlife, making it the perfect destination whether you're looking for some rest and relaxation or to let loose in paradise.
Every Villa is a privately owned condominium, furnished lavishly with all the amenities you would find in the comforts of home. For the finicky traveler, the penthouses are expansive and lavishly furnished, each offering spectacular views.
We were really looking forward to our stay at Villa La Estancia, the accommodations looked lovely. It was such a pleasure working with Giovani who made the booking super easy and was very accommodating and helpful in explaining the location of the Villa and ensuring that we have the best options available. We were also immediately connected with the concierge Samantha and the transportation company from the airport.
Due to circumstances beyond our control, we had to regrettably cancel our trip and were very appreciative of Giovani's understanding and consideration of our situation. Based on our very positive experience, we will definitely work with him again in the future and look forward to visiting this property in Cabo soon.
We have been to Villa La Estancia several times but on this trip we decided to make one change and that was to rent our villa from Giovanni at Cabo La Estancia. We stayed in a beautiful villa with the best terrace and view we have had to date. It was perfect for two couples and any request was taken care of promptly. Such things as having our villa stocked ahead of time with some grocery items and our favorite beverages gave us more time at the pool. We requested villa cleaning at a certain time of day and that is exactly when it was cleaned. The Cabo La Estancia website has beautiful pictures and descriptions of the villas plus working with Giovanni and Samantha made our vacation very enjoyable. They will also
assist with arranging activities and restaurant reservations. Definitely a five-star vacation!!!
Only a few hours south of Hollywood, in the luxurious, yet exotic, Baja California, Cabo, as it's known by those who know it best, features your own playground, too: Cabo La Estancia Villa Rentals.
Loosely translated, La Estancia means "a place to stay," and that place waits just for you, where the Mexican desert meets turquoise waters, where infinity pools stretch into the Sea of Cortez, and where you can live the life of a jet-setting star.
Buying or renting your own private resort — a villa, condo, or penthouse on Medano Beach — is not only a place to lay your head, but it's relaxation and romance that you'll find under a beach umbrella, or under the stars, before you slide under the covers.
Only a mile from downtown Los Cabos, the resort puts you within striking distance of some of the world's best nightlife, where you can catch a glorious sunset, a glamorous superstar, or fall in love with your traveling companion all over again.
A former fishing village transformed into a celebrity mecca, Cabo San Lucas offers all the richness of a down-haute trip into an exotic world — the thrill of a Third World journey with the luxury of a five-star experience.
Play a round of golf amidst emerald greens, dive with whales at Gordo Banks, or swim with dolphins in crystal water; you can even take a camel ride through the Desert Park Natural Reserve.
Afterward, take in one of the trendy eateries and quaint cafes in and around Cabo, or go shopping at the finest boutiques or fun, local favorites. If neither of these interest you, simply stop altogether, slather on the sunscreen, and soak up the rays.
Don't forget about the beaches — From the serene beauty of Playa del Amor and the Sea of Cortez to the surfing magnet of Zippers, you'll find your own spot to spend your days.
Sunny and serene, magical and mysterious, at Cabo La Estancia Villa Rentals, each privately owned condominium welcomes you with lavish furnishings and all the amenities of home, only here, you're surrounded by spectacular views that you won't find anywhere else. Sculpted rock formations will keep you guessing, while nature's own light shows dazzle from sunrise to dusk.
Don't just catch a shooting star — Live like one. When you visit the resort, the place to stay in Paradise, you'll experience more than just a vacation; you'll make memories that last a lifetime.
Frequently Asked Questions
Where is the resort located?
The resort is conveniently located on Medano Beach (the swimming beach), less than a mile from downtown Cabo San Lucas; far enough away from town to have a peaceful and relaxing vacation, but close enough to easily take advantage of the great restaurants, shopping, nightlife, and activities.
Is there an all-inclusive option?
The resort offers a Basic
Meal Plan
PLUS full access to the mini-bar in your villa as well as 24-hour room service (gratuity not included). Items such as lobster, T-bone steak, Kobe beef, or cognac are not available in the all-inclusive. All packages and prices can be requested through the front desk.
Are there restaurants at the resort?
Yes. There is a poolside restaurant is open for breakfast and lunch. There is also an upscale restaurant with a daily dinner service.
The beachside restaurant has a wonderful pizza oven, a real treat for all. The deli, located in the mini-mall, offers great sandwiches, salads, desserts, some hot prepared foods, plus specialty coffee drinks and juices. There's even an ice-cream stand. Cabo has many great restaurants.
We will be happy to provide our recommendations (and those of our former guests) when you book your reservation with us.
Is there a spa and/or fitness center?
Yes. There is an executive fitness center and also a full spa. There is no charge for using the fitness center.
Are there tennis courts?
Yes, there are two private tennis courts and two additional courts at the adjacent resort (lighting available at a small charge).
With a private rental at Cabo La Estancia, do I have the same privileges at the resort?
Absolutely. You will be a guest of the owner of the Villa and may use all of the facilities at no charge.
There is a small charge for lighting the tennis courts at night. Additional costs would include spa services, food and beverages, and any activities you schedule. Please contact us with any specific questions.
How do I get from the airport to the resort?
The airport is at San Jose del Cabo (SJD). It is about a 40 – 45-minute drive. Please let us know if you would like us to prearrange transportation for you. Here are the current rates:
Shuttle service: The Community Shuttle is the slowest form of transportation to the resort, making several planned stops along the way.
"Regular" TAXI: Taxis are located at the airport but they take 'the long way' to the resort, via a toll road (maximum 5 passengers).
The private Suburban: (recommended) 7 passengers one-way Van: 10 passengers one-way Limo: 8 passengers.
To make a reservation online click here. To request more information please send us an email at concierge@cabolaestancia.com
Why reserve a villa or penthouse through Cabo La Estancia?
When you reserve through the resort directly or another website such as Expedia or Hotel.com, one of the most common misconceptions is with regard to the one-bedroom unit. It is rented as a 'hotel room' when, in fact, there are no hotel rooms in the resort.
This 'hotel room' is comprised of a 2-bedroom, 3 bath condo, divided into two parts, Side 'A' (1 bedroom, 2 bath, kitchen, living and dining areas) and side 'B', known as a 'lock-off' (1 bedroom, 1 bath, with a separate entrance, 2 Queen Beds or 1 King Bed, depending on the unit).
This is often referred to as 'The European Plan' and the problem is both sides 'A' and side 'B' share a balcony, divided by a grass lattice screen.
A client renting through our website, Cabo La Estancia, will never need to share the balcony because we never rent out the 'B' side lock-off. We only rent the 'A' side, thereby, preserving your privacy. Other sites will not explain this fully and will rent both sides.
Are there benefits of reserving through Cabo La Estancia versus VRBO or other sites?
The benefits of reserving through Cabo La Estancia versus VRBO or other sites are significant:
When reserving through our website, you will always know which Villa you are renting – no surprises upon check-in. Cabo La Estancia monitors all units on a continual basis throughout the year and, therefore, will know which have been updated and upgraded and will separate the good from the bad.
Expedia, Travelocity, etc… These sites receive their inventory from the resort directly and operate as a hotel. Rates are typically much higher than reserving directly with us because these sites charge additional fees and taxes.
VRBO… While this site is a good resource for Villa owners, the downside for the renter is the lack of individual support; you are unable to speak to a live person prior to booking and VRBO assesses a fee at the time of rental. Many guests complain that when dealing with owners, directly, there is a lack of responsiveness.
Our rates are very competitive, if not the same as dealing directly with the owner and we provide live guest support 24/7 via one of our team members.
Our On-site Concierge Team is available to you prior to check-in and throughout your stay to assist with dinner reservations, private chef services, excursion reservations, and ground transportation referral
Our rates include all taxes, resort fees, and maid service – no surprises, no hidden fees
Have you booked through Expedia, VRBO, Hotels.com and need assistance?
It's not too late to speak with us about possibly securing a better rate!
For questions regarding a reservation made through Expedia, VRBO, Hotels.com, we, unfortunately, cannot view a reservation unless it was made through our office. You must contact the entity with whom you made the reservation or contact the resort, directly.
However, should you need restaurant reservations, ground transportation or assistance with excursions, please see the 
concierge information
.
Would you like to buy a luxury villa in Cabo – or learn more about ownership?
If so, we can definitely assist you. Contact us today!
Let us arrange a private tour of our available villas for sale. We will also share with you how to make your dream home pay for itself through our rental program.
View listed Villas here:
https://cabolaestancia.com/villas-for-sale/
Because we are independent of the Resort's onsite Sales Office/Developer Team, we have other listings available within La Estancia and the Cabo San Lucas area. Many units are, often, quietly listed and can be negotiated for a better deal.
Are there any extra charges?
The rates we will quote to you will be total. There is no charge for using the fitness center, tennis courts, and high speed Internet access (within the Villa) and WiFi in the pool area. Additional charges would include food, beverages, spa services, telephone calls, or activities that you schedule.
Do I need to rent a car?
No. Almost everything is within walking distance or a short taxi ride. The taxi fare to Cabo is currently $9/one way for 4 people (a small additional charge for more people). Taxis are readily available and are vans so they will seat a large group. Some people do like to rent a car, which is convenient for shopping, golf, and perhaps a side trip to Todos Santos. Free parking is available at the resort.
Is the beach swimmable?
Yes. Medano Beach is considered the swimming beach in Cabo. The beaches on the Pacific side have surf that is too rough for safe swimming. Most of the beaches along the "corridor" (the area between Cabo San Lucas and San Jose del Cabo) have significant rip currents and are not generally considered safe. There are some exceptions, but check this out if ocean swimming is important to you.
 World Travel & Tourism Council (WTTC) gives Cabo the Stamp of Approval for Safety Protocols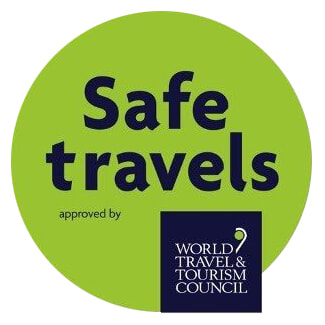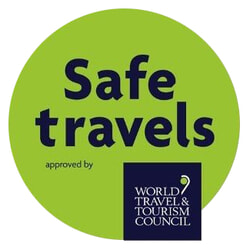 It is an honour to have our State included in the list of destinations using the Safe Travels stamp; we are hugely supportive of the global protocols as the health and safety of our travellers is our priority.

~ Carlos Mendoza Davis, Governor of the State of Baja California Sur
Enjoy a THIRDHOME Membership, Compliments of Cabo La Estancia
THIRDHOME is the premier luxury home exchange club for second homeowners who share a mindset for luxury and exploration.
Members leverage unused time in their second homes, yachts, and vacation residences to open the door to countless destinations.
We can't wait to welcome you to The Club! Enjoy THIRDHOME, and learn more about this fantastic membership.