Villa La Estancia Cabo – Unit 1604
Premium Ocean View – 2 Bed / 3 Bath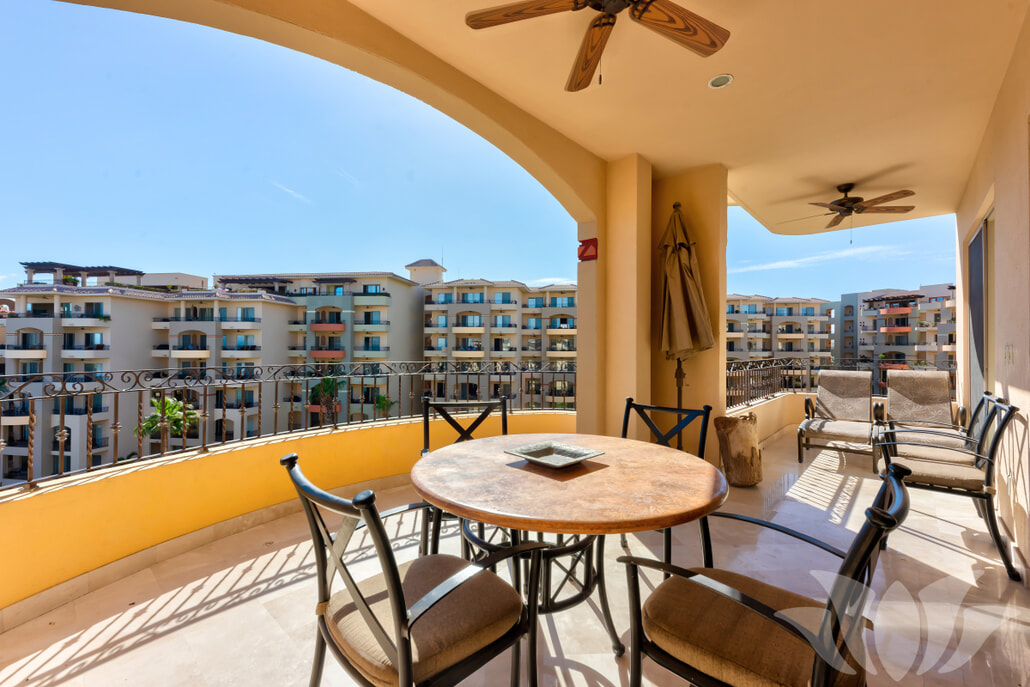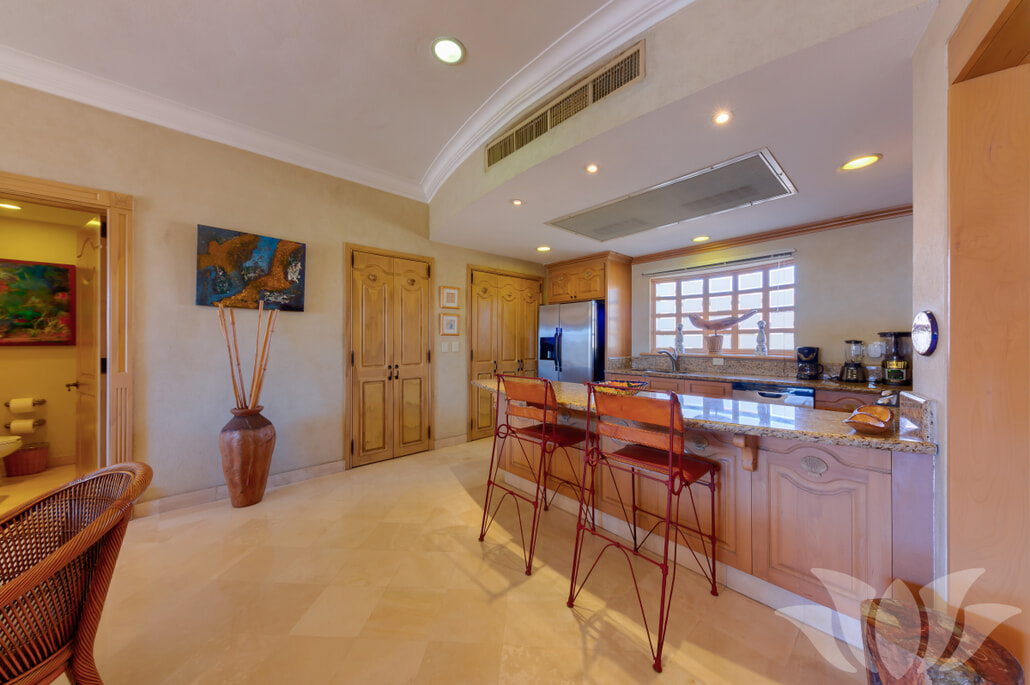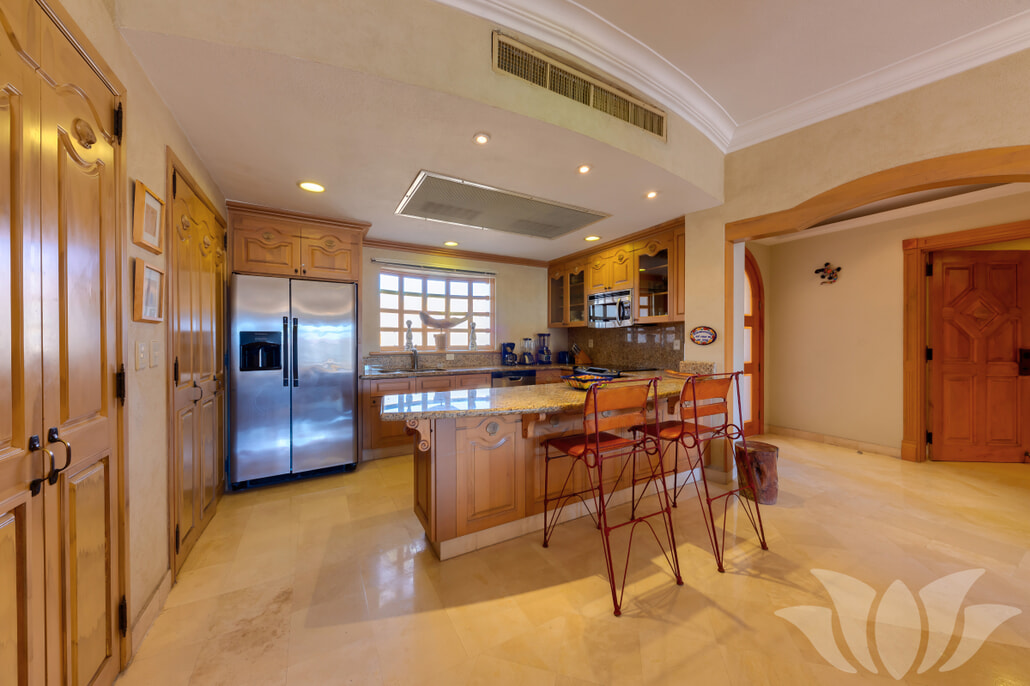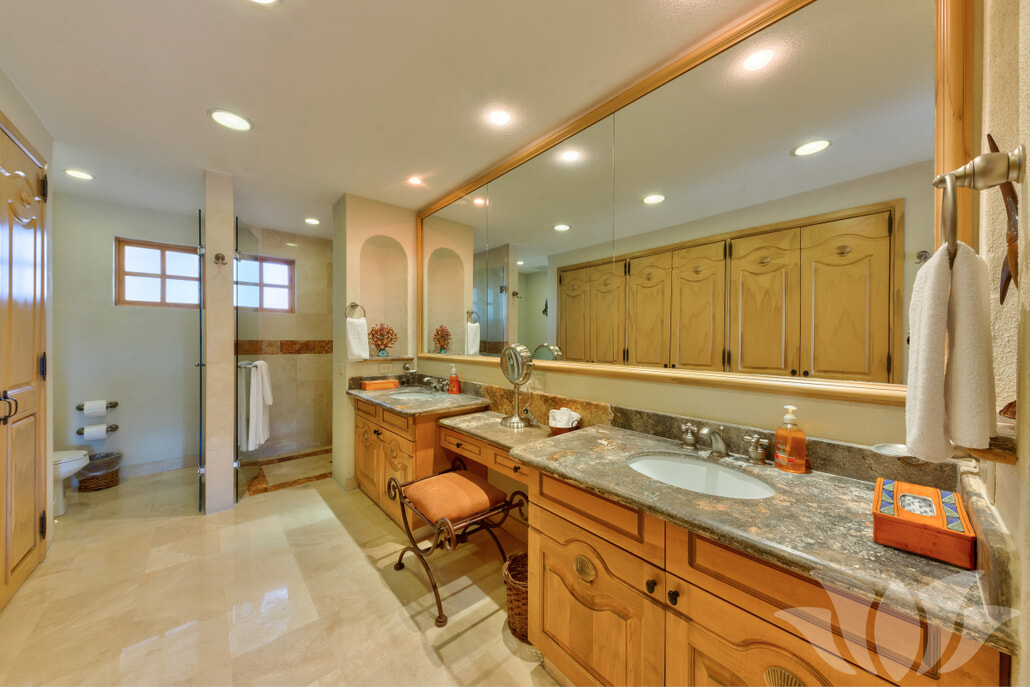 From the terrace on the, with its beautiful potted Bougainvillea's, the dramatic views of the sapphire Sea of Cortez and "Land's End" take your breath away. This sixth floor, two bedroom/three bath condo is beautifully decorated and sleeps up to six people.
The large living room, dining room, and full kitchen are ideal for relaxing and enjoying Cabo San Lucas with family and friends.
The Villa is a carefully crafted environment splendidly furnished in the grand style of elegant Mexico. The rich ambiance graces you with unmatched amenities and features including spacious terraces, fine maple cabinetry, cream travertine marble floors, granite kitchen counter-tops, and central air conditioning.
King bed with Pillow Top Sealy Posturepedic mattresses and a queen sleeper in master bedroom King in both bedrooms
King bed and Queen Bed in the second room with Pillow Top Sealy Posturepedic mattresses
iPod dock in the living room
3 baths (with showers); 1 with jetted tub; 1 with standard tub
Each bedroom has a bath and the third is off of the living room
Sofa sleeper in the living area.
Complete stove (with oven)
Microwave
Dishwasher
Garbage Disposal
Side-by-side refrigerator with a garbage disposal
Washer / Dryer
Dishes, glassware, flatware
Cookware and kitchen utensils
Small appliances
Breakfast bar
Television in the living room and bedrooms
DVD players in Master Bedroom, guest room, and living room
Flat Screen Sony 40 inch TV in the living room
Wet-bar and mini refrigerator on the terrace with charcoal BBQ
Table, chairs, and lounges on terrace
Safe built in Master Bedroom and Guest Room
Your own private wireless internet from Telmex for when the resort internet is slow or non-functioning
VOIP phone with free calls to the US
Dish Network with US television stations so you will not miss your favorite TV shows
From our guests
Unit 1604 - Highly Recommend
We spent a full month in Unit 1604 at Villa La Estancia. Giovanni did an excellent job of presenting this unit as it was – no overpromising!! The unit is spacious, well equipped and has an excellent view. We couldn't have felt more comfortable during out stay. I want to give a big shout out to the staff at Villa La Estancia. EVERYONE wore masks and no one let them slip below their noses. They were gracious, friendly and super helpful. The bellmen were terrific and the cleaning staffed worked so hard. This place is great for 2 couples or even 2 families. The bed configuration certainly allows for extra people. Because we were there for a month, we did a lot of cooking. My husband has an extremely expensive bbq at home and he commented that he liked the little one in unit 1604 better!!!!! All in all, I would highly recommend 1604.
Love the villa and location!
We stayed in Villa 1604 and love the villa and location! There is plenty of room for a family or group of friends to stay. The concierge, Samantha, was helpful in setting up things to do. We went on the snorkeling trip that she recommend and it was great-the water is so warm and clear. She also assisted in setting up our spa reservations- my husband and I both enjoyed our treatments.
It looks like there is a ton of building going on down here along the coast. But even the tour guide on the boat said what you said that this is the best place to be for the beach.

Everyone that we have met has been so warm and friendly, the service has been amazing. We had dinner here at Neptune one night and the steakhouse last night. Both were fabulous for the food, drinks, and service. We met the nicest people at the pool as well and everyone was saying how much they loved it here.

Giovanni Giammarco was very helpful in making our reservations for us. He helped connect us with Samantha for assistance with dinner, spa, and activity reservations, and Victor for transportation. Victor was very helpful in explaining what to do once we arrived at the airport- we appreciated his guidance and assistance.
Great Family Trip
Great place for a family trip. Couldn't ask for anything more.
Good sizeable villa, with a nice view and afternoon sun
Well situated villa, on the 6th of 7 floors. Good views, great balcony with afternoon sun exposure. Room was clean and updated. I read some reviews about U.S. TV availability, but I didn't see that. Yes, there was some Mexican versions of US stations, but no networks. Minor point, but I can only be nitpicky as the villas was very good. The resort itself was great. Good food options, nice pool, good beach. The staff was very gracious. Easy access to town.
Amazing and Relaxing!!
We were scheduled to go to Maui in July and had to cancel due to Covid. We very badly needed to get away and decided to go to Cabo! I want to make this very clear: The hotel & all of the people were unbelievably cautious and took many measures to ensure our safety. Beyond that we stayed at an incredible resort and in a beautiful condo (#1604) We had a wonderful time! The food at our resort was fantastic (and I'm a trained personal Chef!) We also had amazing dinners at the restaurants next door at the (sister resort) Villa del Arco. All of us thoroughly enjoyed our massages at the Spa (50min $99) Many, many thanks to Giovanni (booking agent), Samantha (concierge) and Victor our airport transfer for such an enjoyable and relaxing vacation! We can't wait to go back!
4.8 out of 5 stars (based on 9 reviews)